Home >> Art and Crafts of Bihar
Art and Crafts of Bihar
Sujini and Khatwa Embroidery:
A traditional quilt sujini is made with layers of clothes mainly in the rural areas. Old clothes are used for the inner stuffing and cotton or colorful threads are used for the embroidery. The embroidery is done in running stitch in a scale pattern. The sujini depicts village and religious scenes such as bride in palanquin, peacocks dancing, boy flying kite, etc. Khatwa is the applique work of Bihar used to craft decorative tents, canopies, shamianas, etc. The applique designs for tents are Persian type trees, flowers, animals, birds, etc. For canopies the whole design with circular central motif is cut out of a single cloth.
Madhubani Paintings: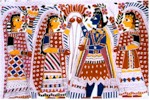 Madhubani art native to the region of Mithilanchal is a creative folk painting done traditionally by the women. The paintings show symbolic motifs, the religious Gods and Goddesses such as Durga, Radha and Krishna, Shiva and Parvati. Women do the paintings in natural colors on walls, depicting animals such as elephants, fishes, parrots, the sun and moon and giant flowers. The colors range from vibrant red, yellow and green to ochre, brown and black. The pigments are taken from spices, minerals, charcoal, vegetable matter, flowers and plants depicting special events and aspects of everyday life. These paintings in both black and white and strong primary colors are now professionally produced on paper, canvas and textiles for international and national exhibitions etc.
Wood Inlay:
One of Bihar's ancient industries wood inlays continues to be done with different materials, metal, ivory and stag-horn. Artists create decorative pieces like wall hangings, table tops, trays, and a number of utility articles with inlay work. One can see beautiful pieces of trays, boxes and other articles for household use are produced using this craft. The designs are colourful and geometrical.
Lacquerware:
In Bihar lac has been used for making beautiful items like boxes and bangles etc since ages. Sindurdan the vermilion container given in marriage is one of such decorative piece made by laheris community. The boxes are beautifully decorated with the motifs of fish, chakra and peacock. Traditionally the bride's parents present her a round conical box, with a nose ring at the marriage with the symbols of fertility and longevity engraved on its red body.
Stonecraft:
Bihar has rich legacy of handicrafts and stone craft .It is visible and alive from the ancient pillars of the Mauryan period. Patharkatti in Gaya district is the traditional stoneware centre in Bihar. This area supplies in abundance the blue black pot stone from which artisans craft Buddhist icons, images and household articles like the pestle, the mortar kharal (medicine grinder).
Printed Textiles:
Bihar has made its name in textile printing which is done on cotton, wool and silk.Some districts and towns for example Bhagalpur, Bihar Sharif, Darbhanga, Saran and Patna are well known for this craft. In Gaya, it is common to find the religious textiles with the names or footprints of deities printed all over in ochre or red. The chunris of Bihar deserve special mention. Beautiful designs are printed in these chunris which are traditional as well as floral and animal forms. At Sursand in North Bihar only mica (khari) printing is done with bright colours are used extensively.
Sikki Work:
The humble blade of grass is hand-woven into the delightful baskets and mats. They are popularly given to brides during marriage.
Other handicrafts:
Bihar also has tradition of leather craft, tikuli making and papier –mache art .These arts are being recognized all over the world and showcased in international and national exhibitions. Beautiful objects are crafted in traditional and floral designs with bright colours.Religious scenes and gods and goddesses are also painted especially on papier-mache articles.